Q10 Series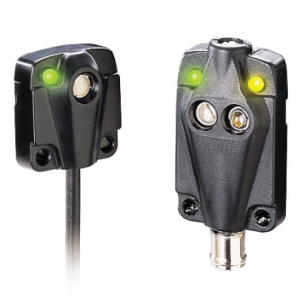 Overview
Features a thin 10 mm housing
Offers 10 to 30V dc supply voltage with NPN or PNP output, depending on model
Available in dark- or light-operate models
Available in opposed and diffuse sensing modes
Provides single-turn sensitivity adjustment on diffuse models
Features epoxy-encapsulated circuitry; leak-proof IP67 (NEMA 6P) construction with hermetically sealed optics
Product Specifications
Supply Voltage and Current
10 to 30V dc (10% max. ripple) Opposed:15 mA (exclusive of load)
Diffuse:20 mA (exclusive of load)

Range
Opposed:1.8 m
Diffuse:0.5 m

Supply Protection Circuitry
Protected against reverse polarity
Output Configuration
SPST solid-state switch:NPN (current sinking) or PNP (current sourcing), depending on model. Light operate (LO) or dark operate (DO), depending on model

Output Rating
150 mA max. OFF-state leakage current:less than 10 µA @ 30V dc
ON-state saturation voltage:less than 0.5V @ 10 mA dc; less than 1.0V @ 150 mA dc

Output Protection Circuitry
Protected against false pulse on power-up and continuous overload or short circuit of outputs; Overload trip point 200 mA min. @ 20° C
Output Response Time
Opposed:8 millisecond ON; 4 milliseconds OFF
Diffuse:3 millisecond ON/OFF

Repeatability
Opposed:1.0 millisecond
Diffuse:0.75 milliseconds

Adjustments
Diffuse:single-turn, top-mounted SENSITIVITY control for adjustment of system gain

Indicators
2 LED Indicators:Green and Yellow


Green ON steady:power to sensor is ON

Green flashing:output overload

Yellow ON steady:light is sensed

Yellow flashing:marginal excess gain (1-1.5x) in light condition

Construction
Black ABC housing (UL 94-VO) with hermetically sealed glass lens

Epoxy-encapsulated and completely sealed circuitry
Environmental Rating
IP67; NEMA 6P
Connections
2 m or 9 m attached PVC cable, or 150 mm pigtail with threaded 3-pin Pico-style quick-disconnect fitting. QD cables are ordered separately.
Operating Conditions
Temperature:-40° to +70° C
Relative humidity:90% @ 50° C (non-condensing)

Application Notes
M2.5 stainless-steel mounting hardware is included with each sensor. Optional mounting brackets are available.