Q14 Series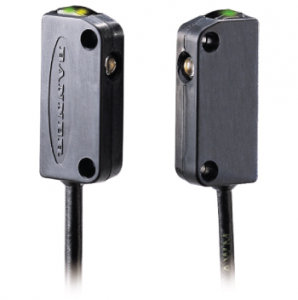 Overview
Features EZ-BEAM technology, with specially designed optics and electronics for reliable sensing without adjustments
Offers economical opposed mode sensing in 7.5 mm thick housing
Offers 10 to 30V dc supply voltage with NPN or PNP output, depending on model
Available in dark- or light-operate models
Rated IP54 (NEMA 4) with hermetically sealed optics
Product Specifications
Supply Voltage and Current
10 to 30V dc (10% max. ripple) Emitter:15 mA (exclusive of load)
Receiver:15 mA (exclusive of load)

Range
1.8 m
Supply Protection Circuitry
Protected against reverse polarity
Output Configuration
SPST solid-state switch:NPN (current sinking) or PNP (current sourcing), depending on model. Light operate (LO) or dark operate (DO), depending on model

Output Rating
150 mA max. OFF-state leakage current:less than 10 µA @ 30V dc
ON-state saturation voltage:less than 0.5V @ 10 mA dc; less than 1.0V @ 150 mA dc

Output Protection Circuitry
Protected against false pulse on power-up and continuous overload or short circuit of outputs; Overload trip point 200 mA min. @ 20° C
Output Response Time
8 millisecond ON; 4 milliseconds OFF
Repeatability
1.0 millisecond
Indicators
2 LED Indicators:Green and Yellow


Green ON steady:power to sensor is ON

Green flashing:output overload

Yellow ON steady:light is sensed

Yellow flashing:marginal excess gain (1-1.5x) in light condition

Construction
Black ABS housing (UL 94-VO) with hermetically sealed glass lens
Environmental Rating
IP54; NEMA 4
Connections
2 m or 9 m attached PVC cable, or 150 mm pigtail with 3-pin Pico-style quick-disconnect fitting. QD cables are ordered separately.
Operating Conditions
Temperature:-20° to +55° C
Relative humidity:90% @ 50° C (non-condensing)

Application Notes
M3 stainless-steel mounting hardware is included with each sensor. Optional mounting brackets are available.