Q08 Series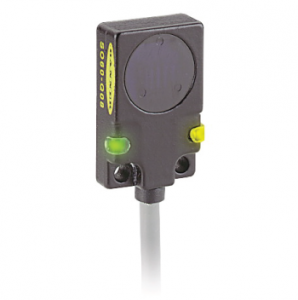 Overview
Features EZ-BEAM technology, with specially designed optics and electronics for reliable sensing without adjustments
Features an ultra-thin 8 mm housing of rugged die-cast metal
Offers 10 to 30V dc supply voltage with NPN or PNP output, depending on model
Available in dark- or light-operate models
Available in opposed and diffuse sensing modes
Product Specifications
Supply Voltage and Current
10 to 30V dc (10% max. ripple) Opposed:50 mA total max. (exclusive of load)


Emitter:30 mA (exclusive of load)

Receiver:25 mA (exclusive of load)

Diffuse:25 mA (exclusive of load)

Range
Opposed:510 mm
Diffuse:2.5 to 60 mm

Supply Protection Circuitry
Protected against reverse polarity and continuous overload or short circuit
Output Configuration
SPST solid-state switch:NPN (current sinking) or PNP (current sourcing), depending on model. Light operate (LO) or dark operate (DO), depending on model

Output Rating
150 mA max., continuous OFF-state leakage current:100 µA @ 30V dc
ON-state saturation voltage:less than 200 mV @ 10 mA dc; less than 1 V @ 150 mA dc

Output Protection Circuitry
Protected against false pulse on power-up
Output Response Time
1 millisecond ON/OFF, independent of signal strength
Repeatability
200 microseconds, independent of signal strength
Indicators
2 LED Indicators:Green and Yellow


Green ON steady:power to sensor is ON

Yellow ON steady:lights when sensor output is conducting (in light condition for light-operate models; in dark condition for dark-operate models)

Construction
Black epoxy-painted die-cast zinc housing, polysulfone thermoplastic lens with two through-mounting holes to accommodate M3 (#4) hardware
Environmental Rating
IEC IP67; Meets NEMA standards 1, 2, 4, 6 and 13
Connections
2 m or 9 m attached PVC cable, or 3-pin Pico-style quick-disconnect fitting. QD cables are ordered separately.
Operating Conditions
Temperature:0° to 50° C
Relative humidity:90% @ 50° C (non-condensing)

Application Note
Be aware that optimum mechanical alignment of Q08 emitter/receiver pairs may not always result in optimum optical alignment. This may be a factor at longer sensing ranges. Once optimum mechanical alignment has been achieved, optical alignment can be optimized by tilting one unit (emitter or receiver) up/down and left/right. Look for center of the movement zone within which the receiver's output remains in the desired output state: ON for light-operate units and OFF for dark-operate units.