Explosion-Proof Helical Gear Units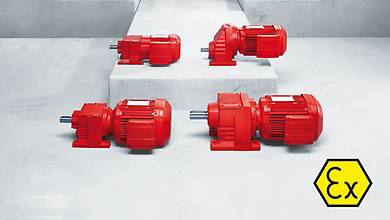 The explosion-proof helical gear units have equipment group II approval for categorie 2. They drive systems and machines in potentially explosive atmospheres.
A total of six single-stage and 14 two and three-stage sizes cover a performance range of 50 Nm to 18,000 Nm. This gear unit series is also far ahead in terms of gear unit ratios: from i = 1.30 to i = 289.74, in double gear units even i = 27,001. Torque ratings and gear unit ratios this finely stepped are hard to find on the market.
The R gear units also meet demands for high output speeds and light weight, of course. With a consistently high level of efficiency, explosion-proof helical gear units offer an optimum ratio between torque output and installation space.
RX / R / RM series explosion-proof helical gear units
Gear units comply with directive 94/9/EC (ATEX), or as of April 20, 2016 of the EU Directive 2014/34/EU (ATEX), equipment group II, categorie 2, variant II2GD

For use on the European market
Accepted in China
Accepted in Russia in combination with EAC certificates (formerly GOST-R)

Certified protection types:

Protection type "c": Protected by safe construction (design safety), EN13463-1 and -5
Protection type "k": Protected by liquid immersion, EN13463-1 and -8

All screws are secured against automatic loosening
Gear unit has a separate nameplate
High-quality oil seals
Lubricant can withstand high temperatures
Single or multi-stage
Foot- or flange-mounted
Foot- and flange-mounted
Flange-mounted with extended bearing hub
Features
Fourteen frame sizes allow for an optimum ratio between performance and space requirements

Finely stepped gear unit ratios up to i = 289.74; or i = 27,001 for double gear units

Available in foot or flange-mounted design

Also available with reduced backlash
Technical Data
Sizes 07 / 17 / 27 / 37 / 47 / 57 / 67 / 77 / 87 / 97 / 107 / 237 / 147 / 167
| Gear unit ratio | i | 3.21 – 289.74 |
| --- | --- | --- |
| Gear unit ratio – double gear units | i | 90 – 27 001 |
| Max. output torque | Nm | 50 – 18,000* |
| Motor power range (Mounting via AM motor adapter) | kW | 0.09 – 160 |
Areas of Application
Applications in potentially explosive atmospheres with air/gas or air/dust mixtures according to directive 94/9/EC (ATEX), or as of April 20, 2016 of the EU Directive 2014/34/EU (ATEX)
Applications with equipment categories II2GD
Use with air mixtures:

With gases (G): in zones 1 and 2
With dusts (D): in zones 21 and 22

Examples:

Rotary tables
Pumps and fans
Waste water and sewage treatment plants
Fans
Roller conveyors
Belt conveyors
Chain conveyors
Corner transfer units