X Series Industrial Gear Units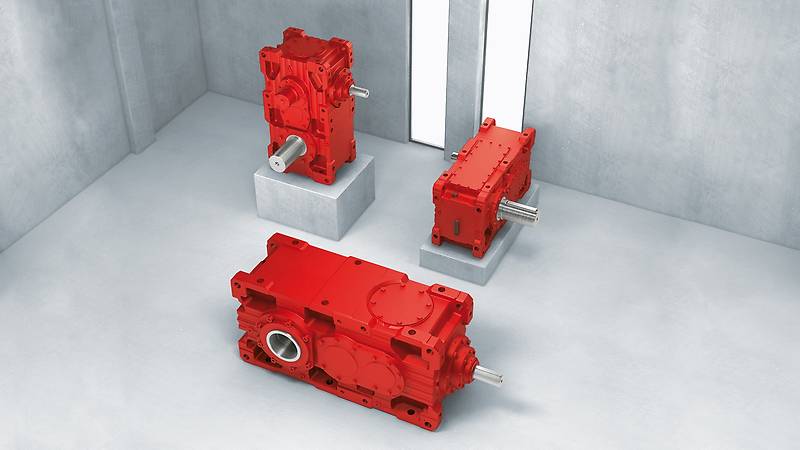 The robust X series industrial gear units feature an invertible housing and a very broad gear ratio range. The finely graduated sizes provide additional variability during installation and use.
For users or original equipment manufacturers of machinery and conveyor systems, it is essential that the drives used there are robust, reliable in operation and maintenance-friendly. X series industrial gear units meet these requirements in an efficient manner.
The intelligent, integrated gear unit concept from SEW-EURODRIVE features an especially robust design and low-noise gearing. Its torque and sizes are also very finely graduated. This is why our compact industrial gear units adapt perfectly to all of the conditions required, even if the conditions of use are harsh. In comparison to other commercially available helical gear units and bevel-helical gear units, the gear ratio range of our X series is extraordinarily broad.
Features
Independent industrial gear unit platform with 23 sizes

Helical gear units and bevel-helical gear units

Single-piece and split gear unit housing

Invertible gear unit housing

Universal mounting positions

Distinctive modular technology

Diverse predefined optional equipment and options

Customer-specific adaptations possible
Technical Data
Gear ratios and torques
Gear unit type
Stages
Gear ratio
i
Nominal torque MN2
kNm
Helical gear unit X.F..:
2-, 3-, and 4-stage
6.3 – 450
6.8 – 475
Bevel-helical gear unit X.K..:
2-, 3-, and 4-stage
6.3 – 450
6.8 – 475 1)
Bevel-helical gear unit X.T..:
3- and 4-stage
12.5 – 450
6.8 – 175
Areas of Application
Construction materials industry, extractive industry, chemical industry, food and feed industries in materials handling systems

Environmental industry

Lumber industry

Paper industry

Steel industry