Helical Servo Gearmotors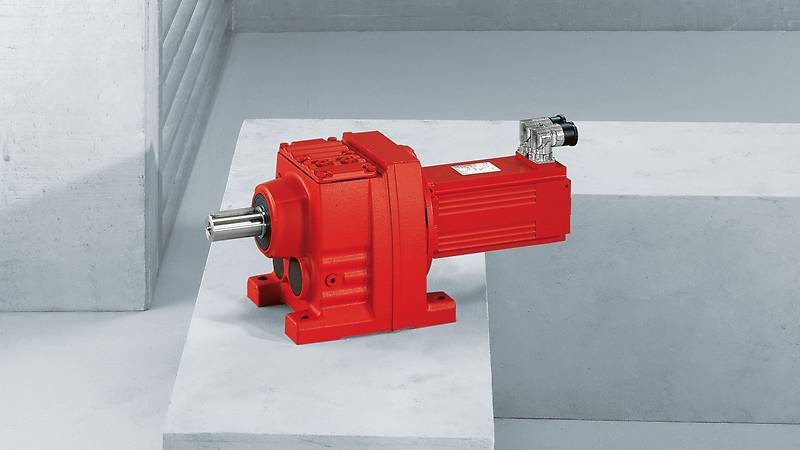 Save time and take advantage of the possibilities offered by the modular system for helical servo gearmotors of theR.. CMP.. series. As a result, you always get a drive which is optimally suited to your individual requirements.
We also offer you a practical configuration tool. You will discover that the helical servo gearmotors are also an impressive option for your applications. This is particularly true for compact solutions with high demands in terms of precision. Particularly complex processes can be optimally implemented with the R..CMP.. helical servo gearmotors. This gives each of your systems a high degree of performance and efficiency.
Powerful torques of 50 Nm up to 4300 Nm mean you have real power and precise dynamics.
Features
Synchronous servomotor
Highest dynamic characteristics throughout the entire CMP.. series thanks to the low-inertia rotor design and high overload capacity of the motors
Performance-optimised and extremely compact design thanks to the latest winding and magnet technology
Standstill torques from 0.5 Nm to 95 Nm
Optional CMPZ.. motor variant with increased rotor inertia for all applications with high load moments of inertia
High quality of concentric running characteristics
Direct mounting of the motor on a gear unit from our modular gear unit system
Technical Data
Helical gearmotors
RX series (single-stage) with CMP.. motor
Gear unit
Motor
Gear unit size
Size
Torque range MaDyn
Nm
57
50S – 112S
6.6 Nm – 90 Nm
67
50S – 112S
8.3 Nm – 162 Nm
77
63S – 112M
15 Nm – 305 Nm
87
71S – 112E
41 Nm – 540 Nm
97
80S – 112H
87 Nm – 800 Nm
107
100S – 112E
114 Nm – 1120 Nm
R series with CMP.. motor
Gear unit
Motor
Gear unit size
Size
Torque range MaDyn
Nm
07
40M
12 – 51
17
50S
19 – 86
27
40M – 80S
12 – 144
37
40M – 80S
13 – 205
47
50S – 112S
19 – 305
57
50S – 112S
25 – 455
67
50S – 112S
25 – 665
77
63S – 112M
57 – 900
87
71S – 112E
133 – 1550
97
80S – 112E
290 – 3090
107
80L – 112E
510 – 4360
Areas of Application
Food industry

Packaging machines

Packer/unpacker

Palletisers and packaging machines

Sorting and stacking systems

Conveyor belts

Incremental launches

Tire, rubber and plastic processing machines

Travel axes, lifting axes, additional axes

Positioning drives