SPIROPLAN® Right-Angle Gearmotors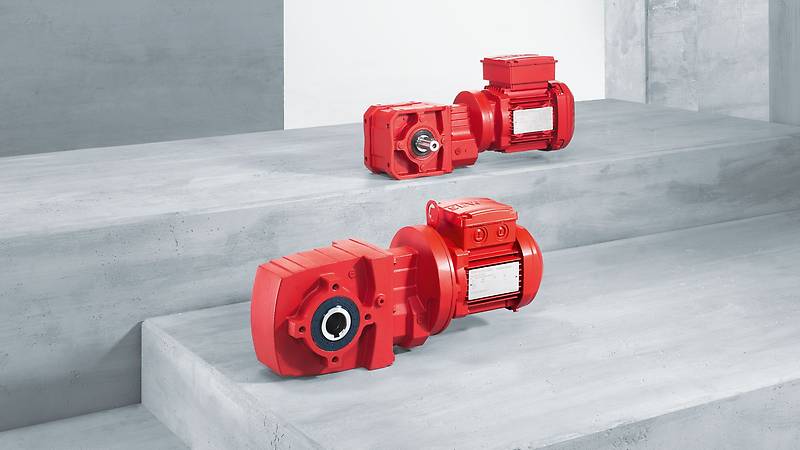 The special, wear-free SPIROPLAN® gearing offers you a largely vibration-free drive with low weight and high efficiency. Excellent smooth running properties are achieved as a result of this gearing and steel on steel combination of the tooth elements.
The SPIROPLAN® right-angle gear units are also maintenance-free thanks to their practical lubrication for life and help you to reduce the ongoing operating costs of your system. They are real lightweights thanks to their aluminium housing, with which you can of course implement any mounting position you wish.
Be it with hollow shaft or solid shaft, we offer a diverse range of mounting and extension options and motor combinations according to your individual requirement profile. The SPIROPLAN® right-angle gearmotors meet the requirements for energy efficiency classes IE1 to IE4 so that you can use them anywhere in the world.
Features
DR.. series
Design
Efficiency class
Number of poles
Power
kW
DRS..
IE1 Standard Efficiency
2-,4- or 6-pole
0.18 – 5.5
DRE..
IE2 High Efficiency
2-,4- or 6-pole
0.37 – 4.0
DRN..
IE3 Premium Efficiency
4-pole
0.75 – 4.0
DRP..
IE3 Premium Efficiency
2-,4- or 6-pole
0.75 – 3.0
DRU..
IE4 Super Premium Efficiency
4-pole
0.18 – 2.2
DR…J series (Line Start Permanent Magnet Motor)
Design
Efficiency class
Power
kW
DRE..J
IE2 High Efficiency
0.37 – 4.0
DRP..J
IE3 Premium Efficiency
0.37 – 4.0
DRU..J
IE4 Super Premium Efficiency
0.18 – 3.0
Technical Data
Areas of Application
Small and fast-running conveyor belts in intralogistics

Roller conveyors

Belt conveyors

Chip conveyors

Sizes W10, W20, W30:

Especially suitable for noise-sensitive work environments

Sizes W37, W47:

In shaft-mounted design especially suitable for hygienic applications in the food and beverage industry