VARIBLOC® and VARIMOT® Variable-Speed Gearmotors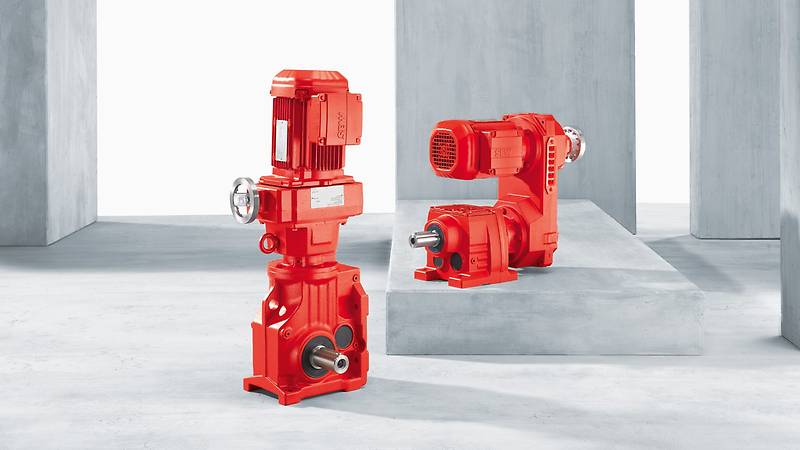 Mechanical variable-speed gearmotors are simple yet robust drive components that represent an inexpensive alternative in many materials handling and process engineering applications. This is because you control the speed infinitely variably yourself: mechanically using a hand-wheel or via remote control. The process does not involve any costly control cabinets or frequency inverters at all.
There are two series to choose from: VARIBLOC®, the wide V-belt series, provides power ratings up to 45 kW and the speed setting ranges 1:4, 1:6 and 1:8. The VARIMOT®friction disk variant is suitable for power ratings of up to 2.2 kW and for the speed setting range 1:5.
VARIBLOC® wide V-belt variable-speed gearmotors
Features
Power range up to 45 kW

Speed setting ranges: 1:4, 1:6 and 1:8

U-shaped or Z-shaped power flow

Numerous possible combinations with reduction gear units

For numerous designs

For easy adaptation to the most diverse machine designs

The foot- and flange-mounted designs can also be used to power machines directly without a reduction gear unit

Can be combined with motors from the modular system so that they meet the requirements of the efficiency classes IE1 and IE2

Flexible due to finely calibrated gear ratio ranges of the reduction gear units per size

Very easy to operate using a handwheel or remote control
Technical Data
VARIBLOC®
Size
Max. motor power 4-pole
Possible power flow
Max. setting range for design version
IE1
kW
IE2
kW
Ventilated
Non-ventilated
VU / VZ 01
0.55
–
U + Z
1:6
–
VU / VZ 11
1.1
0.75
U + Z
1:8
1:6
VU / VZ 21
3
2.2
U + Z
1:8
1:6
VU / VZ 31
5.5
4
U + Z
1:8
1:6
VU / VZ 41
11
9.2
U + Z
1:6
1:4
VU 51
22
22
U only
1:6
–
VU 6
45
45
U only
1:4
–
Areas of Application
Simple conveyor systems

Pumps

Screw conveyors

Construction materials industry

Special machine design
VARIMOT® friction disk variable-speed gearmotors
Features
Power range up to 2.2 kW

Speed setting range 1:5

The contact pressure between the drive pulley and the friction ring required for torque transmission is set automatically

The speed control can be adjusted even when the gearmotor is at a standstill

The foot- and flange-mounted designs can also be used to power machines directly without a reduction gear unit

Can be combined with motors from the modular system so that they meet the requirements of the efficiency classes IE1 and IE2

Flexible due to finely calibrated gear ratio ranges of the reduction gear units per size

Very easy to operate using a handwheel or remote control
Technical Data
VARIMOT®
Size
Max. motor power
kW
Max. setting range
D16
1.1
1:5
D26
2.2
1:5
Areas of Application
Simple conveyor systems

Pumps

Agitators

Construction materials industry

Special machine design