CMP ELVCD: Extra-Low Voltage Compact Drive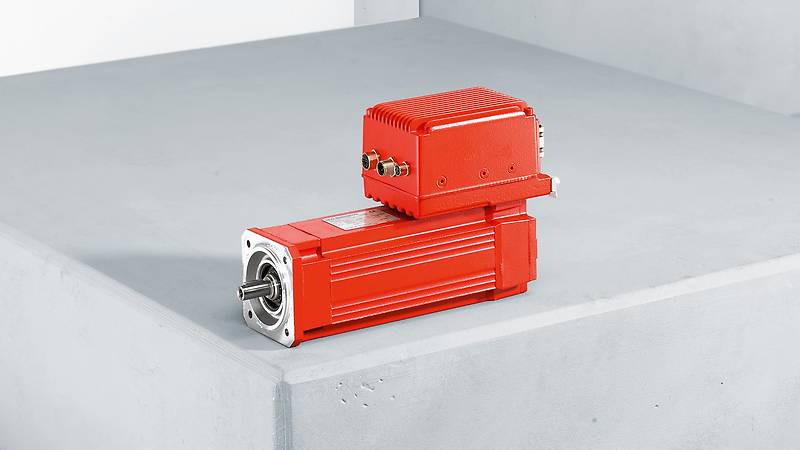 Decentralised extra-low voltage drives are especially suited for applications with power ranges between conventional servo drives and miniature drives. The DC operating voltage range of 48 V offers the additional advantages of extra-low voltage regarding compact design, electrical safety and simplicity.
Up to now, extra-low voltage drives have been particularly in demand for applications in the automotive and consumer goods industries. However, compared to conventional industrial servo drives, this field has different product requirements in terms of robustness, durability, serviceability and scalability.
This is why, during the conception of the CMP ELVCD, the focus was not on yet another extra-low voltage drive, but rather on creating a complete industry-standard, decentralised servo drive with all the characteristics of an SEW­EURODRIVE servo gearmotor.
For this reason the CMP ELVCD is fully integrated into the automation system with MOVI‑PLC®. It can be used for all automation tasks with dynamic and precise motion sequences up to 500 W.
Features
The CMP ELVCD is always combined with the MOVI-PLC® advanced controller. All control tasks are determined centrally and transferred to the drives synchronously. Complex motion profiles and robotic tasks are possible. Almost all motor and gear unit designs that can be combined with the CMP50M or CMP50S motor system can also be implemented with the CMP ELVCD.
Technical Data
Installation topology with the CMP ELVCD decentralised extra-low voltage servo drive
CMP ELVCD is supplied with DC 24 V (control) and DC 48 V (power).
A controller from SEW­EURODRIVE, which functions as central head station via SBus, is used to control the drive.
The controller is responsible for the coordination and the higher-level motion control for all connected drives.
Depending on the power demands and the synchronicity of the drives, several drives can be connected and supplied via one phase winding.
The controllers used offer conventional interfaces for higher-level automation levels. The automation system can also be operated independently as a module.
Technical data of the CMP ELVCD
CMP 50S
CMP 50M
Connection voltages
DC link voltage
DC 48 V nom. (max. DC 60 V)
Electronics supply
DC 24 V ± 20%
Input current
IRated
15 A
IMax
35 A for 2 s
Operating temperature
ϑU
-25 °C to +50 °C (no condensation)
Storage temperature
ϑL
-25°C to +70°C (EN 60721-3-3)
Motor power
at ϑU = 20 °C
330 W
500 W
at ϑU = 40 °C
230 W
330 W
Nominal motor speed
3000 rpm
Nominal motor torque
at ϑU = 20 °C
1.05 Nm
1.6 Nm
at ϑU = 40 °C
0.75 Nm
1.05 Nm
Degree of protection
IP 65 according to EN 60529
Dimensions (L x W x H)
MIN
150.5 x 85 x 150
189.5 x 85 x 150
MAX
217 x 85 x 150
256 x 85 x 150
Weight
Without brake
2.9 kg
3.55 kg
With brake
3.25 kg
3.9 kg
Downloads