DRC.. Electronic Motor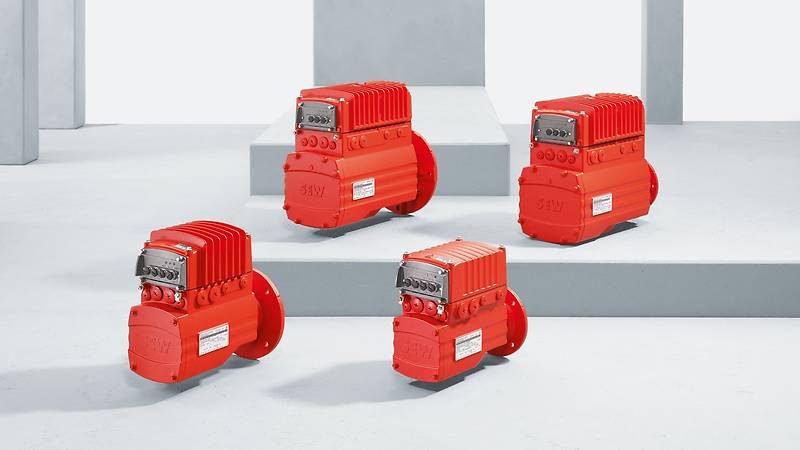 The DRC.. electronic motor expands the portfolio of mechatronic drive systems for decentralised applications and offers you a highly efficient solution with maximum flexibility for tasks that extend well beyond conventional materials handling drive tasks.
The compact design of the DRC.. electronic motor combines integrated electronics with a permanent-field synchronous motor to offer the ideal solution for decentralised applications where maximum gear unit flexibility is a must. When coupled with a highly efficient helical, helical-bevel, or parallel-shaft helical gear unit or used as a stand-alone motor, the DRC.. electronic motor is a high-performance, decentralised drive unit. The DRC.. electronic motor comes in the same communication variants as MOVIGEAR®, and is available in four sizes with power ratings from 0.55 kW to 4 kW. This enables the achievement of continuous torques of 2.6 Nm or 19.1 Nm.
These features and the seamlessly integrated components make the DRC.. electronic motor an intelligent mechatronic drive system that offers high levels of reliability and endurance. This guarantees high system availability and ensures maximum operational reliability.
Its practical flexibility, high energy efficiency, and exceptional performance make the DRC.. electronic motor a cost-effective, forward-looking solution that is perfect for your needs.
Features
Thanks to its unique design and IE4 energy efficiency rating, the flexible, universal electronic motor is used on a global scale for a range of supply voltages between 380 V and 500 V at 50/60 Hz.
Complete mechatronic drive system when combined with our highly efficient helical, helical-bevel, or parallel-shaft helical gear unit, or used as standalone motor,

Standard flanges for combination with our 7-series gear units

IEC flanges for stand-alone motors and mounting of adapters

Optional mechanical brake

Integrated STO (Safe Torque Off) safety function
Technical Data
Series
Nominal power
kW
Control range
Nominal torque
Mn
Maximum torque
Nm
DRC1
0.55
1/2000
2.65
6.6
DRC2
1.5
1/2000
7.20
18
DRC3
3
1/2000
14.3
35.8
DRC4
4
1/2000
19.1
36.2
Decentralised Processing of Sensor and Actuator Signals
Thanks to its GIO12 and GIO13 application options, the DRC.. electronic motor allows various sensor and actuator signals to be directly read and processed in close proximity to the drive. These options are available for all SNI and DSC units:
GIO12B application option
Control of up to 2 digital actuators
Processing of up to 4 digital sensors
GIO13B application option
1 digital output
4 digital inputs (of which 2 can be used as primary frequency inputs)
1 analog output
1 analog input
Areas of Application
Intralogistics

Airport logistics

Food and beverage industry

Automotive industry