MOVI‑SWITCH® Gearmotor with Motor Starter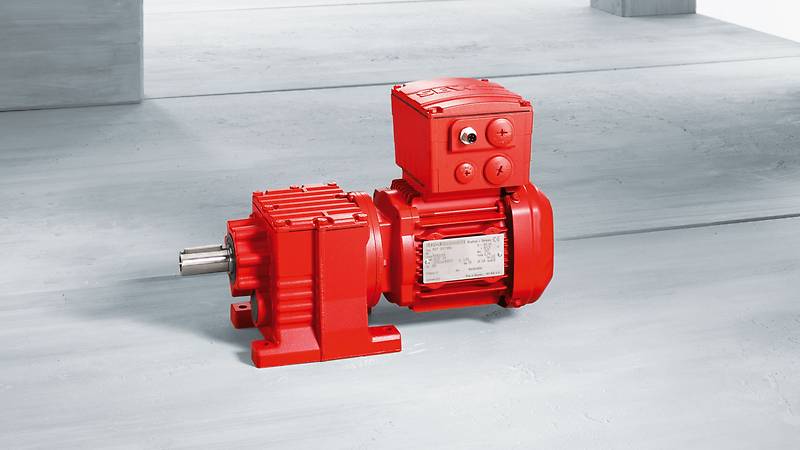 The particularly economical solution for decentralisation at power levels up to 3 kW: MOVI‑SWITCH®, the compact and sturdy gearmotor with integrated switching and protection functions and with IP54 degree of protection; also available with IP55, IP65 or IP66 degree of protection.
Are you looking for a particularly sturdy and economical gearmotor with integrated switching and protection functions? No problem. The MOVI-SWITCH® gearmotor for decentralisation applications up to 3 kW is exactly what you are looking for. The switching and protection functions integrated in the motor terminal box make it possible. You can choose between designs with a contactless star bridge connector or a contact-based switching element. The various designs also offer two different options for the direction of rotation: one direction of rotation, clockwise or counterclockwise depending on the phase sequence, or two directions of rotation, clockwise and counterclockwise independent of the phase sequence.
All in one motor. The 3 MOVI-SWITCH® designs are compact, sturdy and equipped with high-performance features. Thermal motor protection and an optional AS-Interface, all integrated into the motor in a compact fashion.
Features
 

Designs

 

MSW-1E
MSW-1EM
MSW-2S
Switching function

On/off, one direction of rotation

On/off, two directions of rotation

Switching element

Contactless star bridge switch

Switching element with contact

Direction of rotation

CW or CCW, depending on the phase sequence

CW and CCW, regardless of the phase sequence

Controller

Binary control signals RUN/OK

Connection via 1 M12 plug connector

Binary control signals CW/CCW/OK

Connection via 2 M12 plug connectors

Alternatively with integrated AS-Interface

 

 

Alternatively with integrated AS-Interface

Brake management

Standard with BGW brake rectifier

Standard with BG brake rectifier

Integrated brake control

Optional external control with BGM brake rectifier

Protection function

Thermal motor protection with integrated evaluation

Thermal motor protection with integrated evaluation

Supply system monitoring




(Power and phase failure)

Degree of protection

IP54, optionally IP55, IP65 or IP66

Ambient temperature

–25 °C to + 40 °C (to + 60 °C)
Technical Data
MOVI-SWITCH® gearmotor with integrated switching and protection functions
Power range
kW
Number of poles
MSW-1E
MSW-1EM
MSW-2S
4
0.37 – 3.0
0.09 – 0.25
0.37 – 3.0
2
0.37 – 3.0
0.12 – 0.37
0.37 – 3.0
6
0.25 – 1.5
–
0.25 – 1.5
Downloads