MOVIDRIVE® B Application Inverter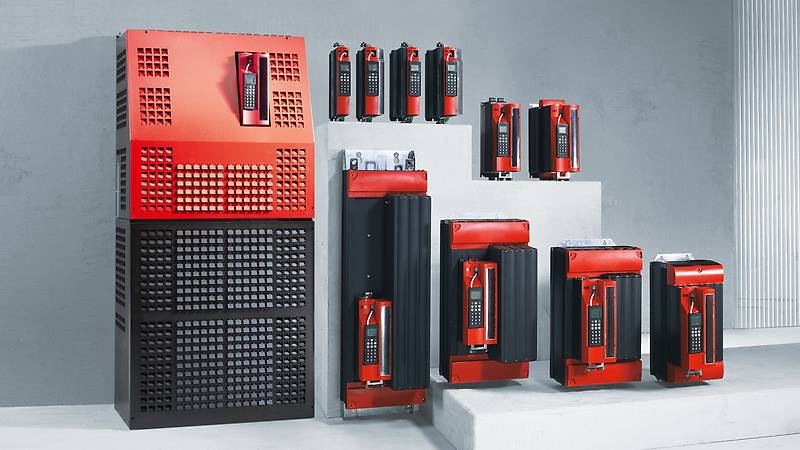 Flexible, compact and intelligent: the MOVIDRIVE® B application inverters. They save space in the control cabinet and are equipped with integrated positioning and sequence control as standard.
Whether asynchronous AC drives or synchronous servo drives – the MOVIDRIVE® B application inverters can control it. The broad power range from 0.55 kW to 315 kW, the fantastic overload capacity and the modular concept of the MOVIDRIVE® B inverter help to improve the flexibility and efficiency of your applications.
The compact design of the MOVIDRIVE® drive inverter saves space in the control cabinet, while its high user-friendliness ensures that you save time during parametrisation, while the intelligent IPOSplus® positioning and sequence control is included as standard.
A multitude of inputs and outputs in the drive inverter ensure a competent basic functionality. Optional communication and technology modules provide for quick and easy extension.
Features
Configurable inverter adapted to your application

Broad voltage and power range

Flexible application with synchronous and asynchronous motors

Safe Torque Off (STO) EN ISO 13849-1 PL d

Modular design, incl. a wide range of options
Technical Data
Supply voltage VAC: 3 x 380 – 500
Supply frequency (Hz): 50 – 60 ± 5 %
Output frequency Hz: 0 – 400
Motor control mode: U/f, VFC, CFC, Servo
MOVIDRIVE®B
Type
Power range
kW
Nominal output current
A
Size
Dimensions
W x H x D
mm
with overload reserve 1.5 x IN
without overload reserve
with overload reserve
without overload reserve
MDX60/61B
0005-5A3-4-0_
0.55
0.75
2
2.5
0S
45 / 27.5 x 317 x 260
MDX60/61B
0008-5A3-4-0_
0.75
1.1
2.4
3
MDX60/61B
0011-5A3-4-0_
1.1
1.5
3.1
3.8
0M
67.5 / 95 x 317 x 260
MDX60/61B
0014-5A3-4-0_
1.5
2.2
4
5
MDX61B
0015-5A3-4-0_
1.5
2.2
4
5
1
105 x 314 x 234
MDX61B
0022-5A3-4-0_
2.2
3
5.5
6.9
MDX61B
0030-5A3-4-0_
3
4
7
8.8
MDX61B
0040-5A3-4-0_
4
5.5
9.5
11.9
MDX61B
0055-5A3-4-0_
5.5
7.5
12.5
15.6
2S
105 x 335 x 294
MDX61B
0075-5A3-4-0_
7.5
11
16
20
MDX61B
0110-5A3-4-0_
11
15
24
30
2
135 x 315 x 285
Supply voltage VAC: 3 x 380 – 500
Supply frequency (Hz): 50 – 60 ± 5 %
Output frequency Hz: 0 – 400
Motor control mode: U/f, VFC, CFC, Servo
MOVIDRIVE®B
Type
Power range
kW
Nominal output current
A
Size
Dimensions
W x H x D
mmv
with overload reserve 1.5 x IN
without overload reserve
with overload reserve
without overload reserve
MDX61B
0150-503-4-0_
15
22
32
40
3
200 x 465 x 308
MDX61B
0220-503-4-0_
22
30
46
57.5
MDX61B
0300-503-4-0_
30
37
60
75
MDX61B
0370-503-4-0_
37
45
73
91
4
280 x 522 x 307
MDX61B
0450-503-4-0_
45
55
89
111
MDX61B
0550-503-4-0_
55
75
105
131
5
280 x 610 x 330
MDX61B
0750-503-4-0_
75
90
130
162
MDX61B
0900-503-4-0_
90
110
170
212
6
280 x 1 000 x 382
MDX61B
1100-503-4-0_
110
132
200
250
MDX61B
1320-503-4-0_
132
160
250
312
MDX61B
1600-503-4-0_
160
200
300
380
7
700 x 1 490 x 470
MDX61B
2000-503-4-0_
200
250
380
475
MDX61B
2500-503-4-0_
250
312
475
590
Supply voltage VAC: 3 x 200 – 240
Supply frequency (Hz): 50 – 60 ± 5 %
Output frequency Hz: 0 – 400
Motor control mode: U/f, VFC, CFC, Servo
MOVIDRIVE®B
Type
Power range
kW
Nominal output current
A
Size
Dimensions
W x H x D
mm
with overload reserve 1.5 IN
without overload reserve
with overload reserve
without overload reserve
MDX61B
0015-2A3-4-0_
1.5
2.2
7.3
9.1
1
105 x 314 x 234
MDX61B
0022-2A3-4-0_
2.2
3.7
8.6
10.8
MDX61B
0055-2A3-4-0_
3.7
5
5.8
18.1
MDX61B
0075-2A3-4-0_
5.5
7.5
22
27.5
2
135 x 315 x 285
MDX61B
0015-2A3-4-0_
7.5
11
29
36.3
MDX61B
0110-203-4-0_
11
15
42
52.5
3
200 x 465 x 308
MDX61B
0150-203-4-0_
15
22
54
67.5
MDX61B
0220-203-4-0_
22
30
80
100
4
280 x 522 x 307
MDX61B
0300-203-4-0_
30
37
95
118
Areas of Application
MOVIDRIVE® B is used in the following industries:
Automotive industry

Food and beverage industry

Transport and logistics
MOVIDRIVE® B is used in the following applications:
Warehousing systems

Feeding systems

Hoists

Synchronised applications

Gantries