MOVITRAC® B Standard Inverter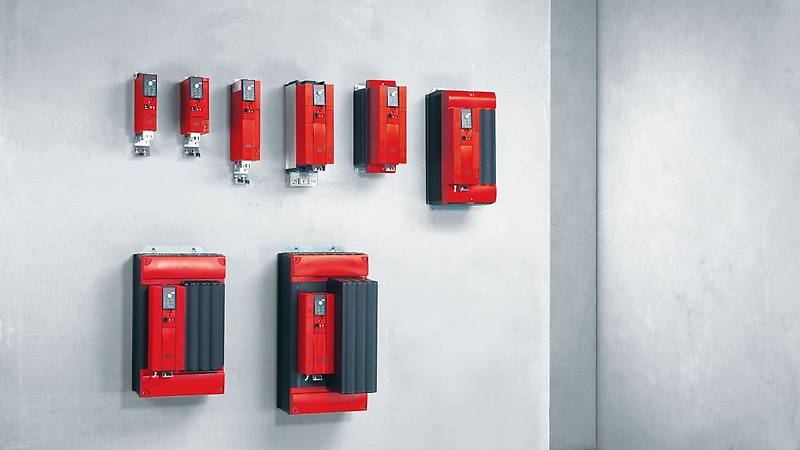 Time is money. The MOVITRAC® B series frequency inverters help you save both. Their basic operation means that these standard inverters are quickly ready for use and perform your tasks extremely efficiently: from fan applications to materials handling and basic positioning.
Ideally suited for motors in the DR.. series, MOVITRAC® B frequency inverters control the speed of asynchronous and explosion protected EDR.. motors.
You can use the standard MOVITRAC® B design in materials handling, pump applications or in centrifuges. The modular concept with optional extensions and extensive accessories also gives you the flexibility to respond to specific requirements.
Features
Compact frequency inverter for space-saving installation

Its straightforward operation saves time during startup

Broad voltage and power range

3x AC 380 – 500 V: 0.25 kW – 90 kW

3x AC 230 – 240 V: 1.5 kW – 30 kW

1x AC 230 – 240 V: 0.25 kW – 2.2 kW

Overload

125 % IN continuous duty

150 % IN for at least 60 s

Safe Torque Off (STO) EN ISO 13849-1 PL d (as standard from 5.5 kW)

Adapted to your application

The design enables the integration of

Fieldbus interfaces

Functional safety technology options

Input/output extensions
Technical Data
Voltage supply VAC: 1x 200/240
Supply frequency Hz: 50 – 60 ± 5 %
MOVITRAC® B type
standard and application
Power range
kW
Nominal output current
A
Size
Dimensions
W x H x D in mm
MC07B 0003-2B1-4-00
0.25
1.7
0XS
54.5 x 185 x 163.5
MC07B 0004-2B1-4-00
0.37
2.5
MC07B 0005-2B1-4-00
0.55
3.3
0S
80 x 185 x 163.5
MC07B 0008-2B1-4-00
0.75
4.2
MC07B 0011-2B1-4-00
1.1
5.7
0L
80 x 273.5 x 163.5
MC07B 0015-2B1-4-00
1.5
7.3
MC07B 0022-2B1-4-00
2.2
8.6
Voltage supply VAC: 3x 200/240
Supply frequency Hz: 50 – 60 ± 5 %
MOVITRAC® B type
standard and application
Power range
kW
Nominal output current
A
Size
Dimensions
W x H x D in mm
MC07B 0003-2A3-4-00
0.25
1.7
0XS
54.5 x 185 x 163.5
MC07B 0004-2A3-4-00
0.37
2.5
MC07B 0005-2A3-4-00/S0
0.55
3.3
0S
80 x 185 x 163.5
MC07B 0008-2A3-4-00/S0
0.75
4.2
MC07B 0011-2A3-4-00/S0
1.1
5.7
0L
80 x 273.5 x 163.5
MC07B 0015-2A3-4-00/S0
1.5
7.3
MC07B 0022-2A3-4-00/S0
2.2
8.6
MC07B 0037-2A3-4-00
3.7
14.5
1
105 x 315 x 173
MC07B 0055-2A3-4-00
5.5
22
2
130 x 335 x 229
MC07B 0075-2A3-4-00
7.5
29
MC07B 0110-203-4-00
11
42
3
200 x 465 x 251
MC07B 0150-203-4-00
15
54
MC07B 0220-203-4-00
22
80
4
280 x 522 x 250
MC07B 0300-203-4-00
30
95
Voltage supply VAC: 3x 400/500
Supply frequency Hz: 50 – 60 ± 5 %
MOVITRAC® B type
standard and application
Power range
kW
Nominal output current
A
Size
Dimensions
W x H x D in mm
MC07B 0003-5A3-4-00
0.25
1
0XS
54.5 x 185 x 163.5
MC07B 0004-5A3-4-00
0.37
1.6
MC07B 0005-5A3-4-00/S0
0.55
2
0S
80 x 185 x 163.5
MC07B 0008-5A3-4-00/S0
0.75
2.4
MC07B 0011-5A3-4-00/S0
1.1
3.1
MC07B 0015-5A3-4-00/S0
1.5
4
MC07B 0022-5A3-4-00/S0
2.2
5.5
0L
80 x 273.5 x 163.5
MC07B 0030-5A3-4-00/S0
3
7
MC07B 0040-5A3-4-00/S0
4
9.5
MC07B 0055-5A3-4-00
5.5
12.5
2S
105 x 335 x 238
MC07B 0075-5A3-4-00
7.5
16
MC07B 0110-5A3-4-00
11
24
2
130 x 335 x 229
MC07B 0150-503-4-00
15
32
3
200 x 465 x 251
MC07B 0220-503-4-00
22
46
MC07B 0300-503-4-00
30
60
MC07B 0370-503-4-00
37
73
4
280 x 522 x 250
MC07B 0450-503-4-00
45
89
MC07B 0550-503-4-00
55
105
5
280 x 610 x 330
Areas of Application
Crushers

Conveyor Belts

Chain Conveyors

Fan

Pumps

Roller Conveyors

Extruders

Mixers

Escalators

Centrifuges