MOVITRAC® LTP-B Standard Inverter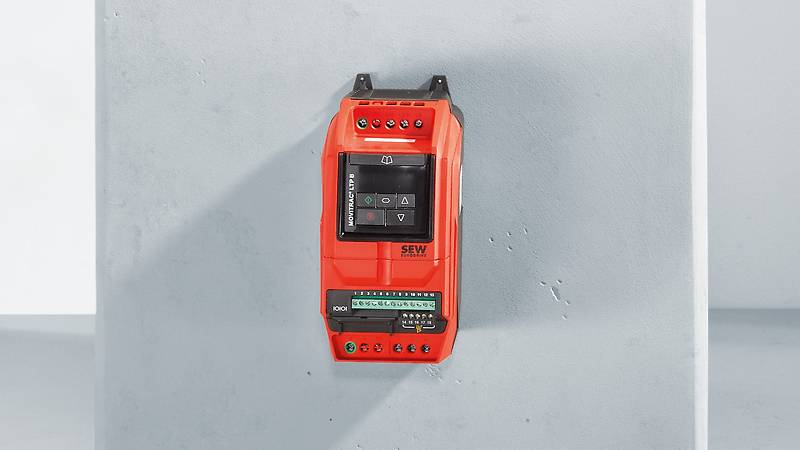 It fits in any control cabinet and starts running straight away – theMOVITRAC® LTP-B frequency inverter in IP20. Compact design and simplified handling give you a versatile range of possible applications and make startup quick.
Connect, choose your motor, perform the automatic calibration and your application will just run and run. Designed and developed for open-loop speed control of synchronous and asynchronous motors, theMOVITRAC® LTP-B with IP20 housing is available with up to 15 kW of power. This allows you to complete your tasks in conveyor applications, hoists, fans and pumps with a high level of energy efficiency – even without an encoder.
Why make it complicated when it could be so easy? That's what they were thinking when they designed the range of functions and the operational principle for the MOVITRAC® LTP-B series. The result? Compact functionality and an integrated control plate that makes handling easy for you. Reduce your energy costs, not your power! Thanks to the energy saving function in the partial load rand and when idling.
And thanks to the STO (Safe Torque Off) safety function, these frequency inverters are not just safe and compact – they are also economical and efficient.
Features
Housing degree of protection: IP20, IP55/NEMA 12k optional

Control plate for easy startup

Power range: 0.75 kW to 15 kW

Line voltages

AC 1x 230 V (2,2 kW)

AC 3x 230 V (5,5 kW)

AC 3x 400 V (11 kW)

AC 3x 575 V (15 kW)
Overload capacity up to 175%

Open-loop speed control of synchronous and asynchronous motors, without encoder

Motor control modes: V/f, VFC, VFC torque

Integrated EMC filter for AC 230 V and AC 400 V designs

Analog and digital interfaces

PID controller

Fieldbus connection

LT FE 31A: Modbus TCP

LT FE 33A: EtherNet/IP

LT FE 24A: EtherCAT®

LT FP 11A: PROFIBUS DPV1

LT FE 32A: PROFINET IO

LT FE 25A: POWERLINK

LT FD 11A: DeviceNet

integrated in basic unit

CANopen

MODBUS RTU

SBus (CAN-based SEW-EURODRIVE system bus)
Technical Data
Connection voltage VAC: 1 x 220 – 240
Line frequency (Hz): 50 – 60 ± 5%
MOVITRAC® LTP-B type
Power range
kW
Nominal output current
A
Size
Dimensions
W x H x D
0008-2B1-4-00
0.75
4.3
2
110 x 200 x 185
0015-2B1-4-00
1.5
7
0022-2B1-4-00
2.2
10.5
Connection voltage VAC: 3 x 220 – 240
Line frequency (Hz): 50 – 60 ± 5%
MOVITRAC® LTP-B type
Power range
kW
Nominal output current
A
Size
Dimensions
W x H x D
0008-2A3-4-00
0.75
4.3
2
110 x 200 x 185
0015-2A3-4-00
1.5
7
0022-2A3-4-00
2.2
10.5
0030-2A3-4-00
3
14
3
132 x 261 x 205
0040-2A3-4-00
4
18
0055-2A3-4-00
5.5
24
Connection voltage VAC: 3 x 380 – 480
Line frequency (Hz): 50 – 60 ± 5%
MOVITRAC® LTP-B type
Power range
kW
Nominal output current
A
Size
Dimensions
W x H x D
0008-5A3-1-00
0.75
2.2
2
110 x 200 x 185
0015-5A3-4-00
1.5
4.1
0022-5A3-4-00
2.2
5.8
0040-5A3-4-00
4
9.5
0055-5A3-4-00
5.5
14
3
132 x 261 x 205
0075-5A3-4-00
7.5
18
0110-5A3-4-00
11.0
24
Connection voltage VAC: 3 x 500 – 600
Line frequency (Hz): 50 – 60 ± 5%
MOVITRAC® LTP-B type
Power range
kW
Nominal output current
A
Size
Dimensions
W x H x D
0008-603-4-00
0.75
2.1
2
110 x 200 x 185
0015-603-4-00
1.5
3.1
0022-603-4-00
2.2
4.1
0040-603-4-00
4.0
6.5
0055-603-4-00
5.5
9.0
0075-603-4-00
7.5
12.0
3
132 x 261 x 205
0110-603-4-00
11.0
17.0
0150-603-4-00
15.0
22.0
Areas of Application
Conveyor applications

Cranes and hoists

Blowers/fans (HVAC)

Pumps (HVAC)

High-powered saws