MOVIFIT® Basic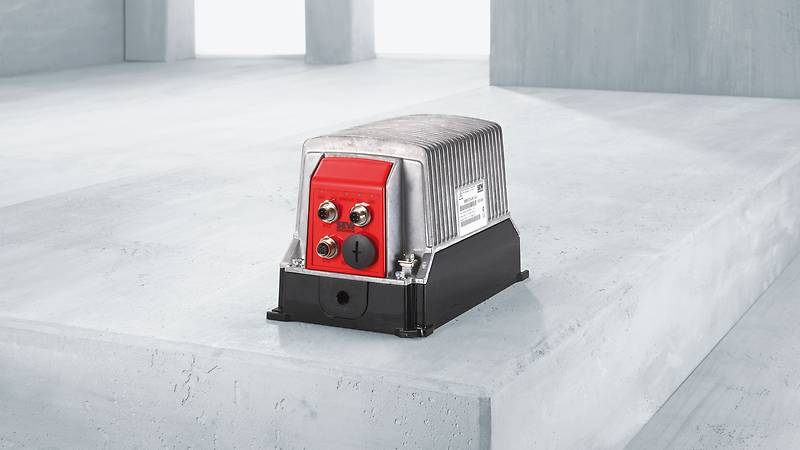 MOVIFIT® basic, the decentralised basic inverter for efficient materials handling technology. Less is more: Sew Eurodrive has reduced the MOVIFIT® basic to include only the functions and features necessary, and its design means that it is the ideal inverter for the lower function range. The frequency inverter is available in power ranges of 0.75 kW and 1.5 kW.
Even before installing it, this basic inverter will convince you with straightforward and fast order processing. All you need to do is select the required power rating and control, AS-Interface or binary, and one of eight available unit variants. No additional consulting or project planning effort required.
The energy for AC 3 x 400 V is distributed via the FieldPower® terminal from Weidmüller, which is integrated in the unit. Two sensors can be connected to the unit in addition to the drive function when using AS-Interface. These are signaled to the system controller via AS-Interface master without additional costs and the signals can then be processed in the system controller.
Features
Integrated FieldPower® contact block for energy distribution with modern and reliable connector technology

Simple connection and wiring technology

Consistent integration of power distribution components in the housing of the drive unit

Consistent use of standard plug connectors for control and motor connection

Extremely short assembly and installation times

When using AS-Interface, two sensors can, in addition to the drive function, be connected to the unit for direct communication with the system controller (everything included)
Technical Data
Function

Frequency Inverters with parameterisable ramps

Control

AS-Interface

Binary control signals

Type designation

MBF4RA-K1-A1

MBF4DA-K1-A1

MBF4RA-B1-A1

MBF4DA-B1-A1

Max. motor power




kW

0.75

1.5

0.75

1.5

Connection voltage




VAC]

AC 3 x 380 -10% to 480 + 10%

Line frequency




Hz

50 / 60

Line connection / cable cross section

FieldPower® contact block*

Line protection

External

Nominal output current




A

2.2

4.1

2.2

4.1

Motor connection according to ISO 23570-3

1x Q8/0

Ambient temperature

–10 °C to +40 °C

Degree of protection

IP54

Service interface

RS485 to RJ11 (6P4C) for connecting the LT-BG and MB-LC operator terminals

Connection control

M12 plug connector




1x male / 2x female

M12 plug connector




2x male / 1x female

Inputs and outputs

2 digital inputs for connecting external sensors

4 control inputs




1 digital output




DC 24 V output

Brake control

Switched power output at the controller




Brake voltage = line voltage




BG rectifier in motor terminal box

Dimensions LxWxH




mm

255 x 150 x 159
Areas of Application
Horizontal materials handling technology

Intralogistics

Package or pallet conveyors

Beverage Industry

Conveying bottles or crates