MOVIFIT® MC Distributors for MOVIMOT®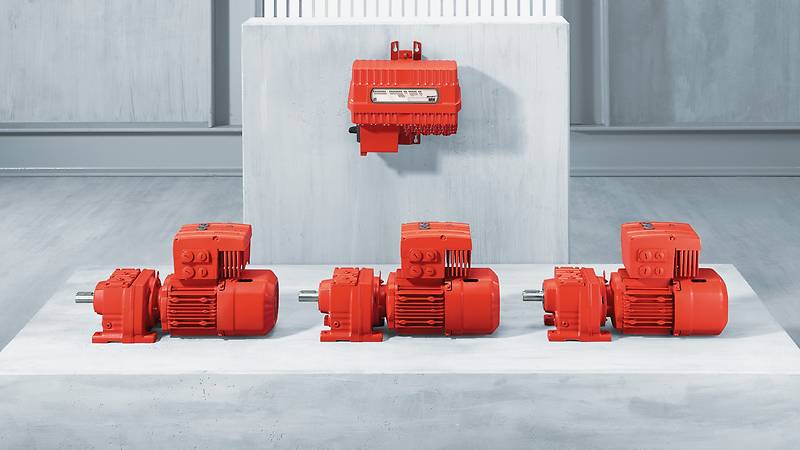 The MOVIFIT® MC distributor in the classic function level design is a decentralised gateway for communication and energy supply. It can control up to three MOVIMOT®gearmotors with inverters. Maximum flexibility for your system planning. The same drive concept covers the different mechanical specifications of the system.
The classic function level does not require any explicit operating software for startup. Simple DIP switches make the relevant settings and following this the distributor as well as the associated MOVIFIT® is then immediately ready for use. The subordinate MOVIMOT® is controlled via the PLC using standardized process data profiles. The  "MOVIFIT®Gateway Configurator" gives you simple configuration and diagnostic options.
The MOVIFIT® MC distributor is equipped for use in the field. The high degree of protection IP65 is standard. Its robust aluminium die cast housing is divided into electronics unit (EBOX) and connection unit (ABOX). A major benefit is the closing mechanism with only one screw and the automatic unit replacement. This enables quick assembly and smooth unit replacement for servicing.
The distributor also has a lot to offer in terms of safety. Equipped with extensive and scalable safety functions, they can be used in safety-related areas. Everything is possible, from the safe disconnection of MOVIMOT® drives to the speed-dependent safety functions activated via fieldbus.
Features
Power, communication and function distributor for MOVIMOT®

Up to three MOVIMOT® units may be connected via hybrid cable

Integrated power distribution with line protection up to 6 mm2

Optional maintenance switch

Optional incremental encoder connection

Comprehensive integrated communication interfaces:

PROFIBUS® (PROFIsafe optional)

PROFINET® IO (PROFIsafe optional)

DeviceNETTM

EtherNETTM/IP

Modbus/TCP

Comprehensive safety functionality

Integrated digital inputs and outputs

Simple and fast parameter setting via DIP switches

Integrated parameter memory

Comprehensive diagnostics via LEDs

Expanded parameterisation and diagnostics via MOVITOOLS® MotionStudio or fieldbus

Plug-in interfaces for energy, motors (power rating) and IOs

Robust aluminium housing

Degree of protection IP65

Approval: CE, UL and C-Tick
Technical Data
Power range MOVIMOT® 0.37 kW to 4 kW in two sizes

Voltage range MOVIFIT® MC3 3 x 380 V to 500 V / 50 Hz to 60 Hz

12 DI + 4 DIO (DI=digital in, DIO=digital in/out)
Areas of Application
Pallet conveyors

Simple skid conveyor technology

Container and crate transport

Baggage handling