MOVIMOT® Standard Inverter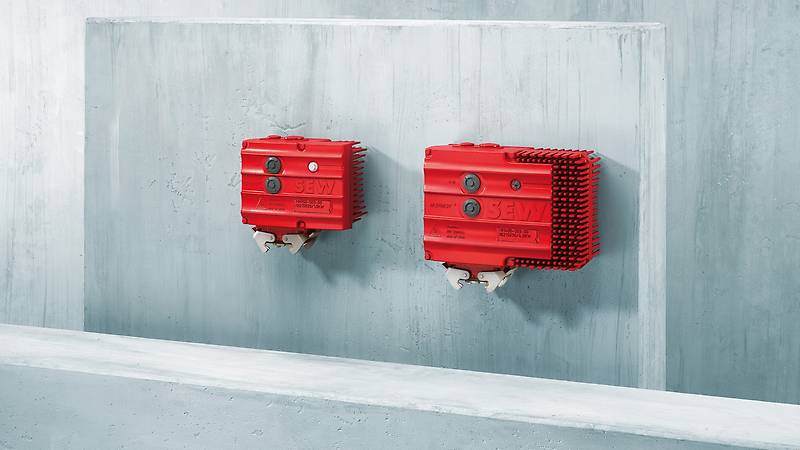 For field operation: MOVIMOT®, the digital frequency inverter with a power range of 0.37 to 4.0 kW. Flexible application thanks to IP54 degree of protection, also optionally available in IP55, IP65 or IP66.
Standard inverters for direct mounting on the motor. Thanks to the modular concept, the MOVIMOT® D series can be combined as standard with the DR.. series AC motors with different levels of efficiency.
Mounting close to the motor is also possible. There are different diagnostics options available. A 3 colour LED signalises operating and fault states. The inverter is equipped with a diagnostic interface, an RS-485 serial interface and much more. This frequency inverter is flexibly available with a connection voltage of 200 V to 240 V or 380 V to 500 V.
Features
Ambient temperature from –30 °C or –20 °C to +40 °C

Control via binary signals: Inputs for CW/stop, CCW/stop, setpoint changeover, isolated signal relay, fixed setpoints, ramps for acceleration and deceleration

Control via fieldbus communication, with and without minicontrollers:

PROFIBUS®

PROFIsafe

INTERBUS

DeviceNETTM

CANopen

AS-Interface

PROFINET® IO

SBUSPLUS/EtherCAT®

Use in stand-alone applications. In combination with the options:

MLU..A: Local DC 24 V supply

MLG.1A: Local setpoint adjuster with DC 24 V supply

MBG11A: Setpoint adjuster for setting and displaying the setpoint frequency

MWA21A: Setpoint converter for interfacing analog setpoints (0 to 10 V, 0 to 20 mA, 4 to 20 mA) to RS-485

3 color LED signalises operating and fault states

Approval: IEC or cULus
Technical Data
Nominal speed
rpm
Voltage
V
Connection
Power
kW
280 to 1400 (1700)
300 – 1500
3 x 380 – 500
Star
0.37 – 4.0
0.37 – 4.0
290 – 2900
300 – 2610
3 x 380 – 500
Delta
0.55 – 4.0
0.37 – 4.0
280 – 1700
3 x 200 – 240
Star-star
0.37 – 2.2
Areas of Application
Automobile production

Food and beverage industry

Airport logistics