DRK..Series Single-Phase Motors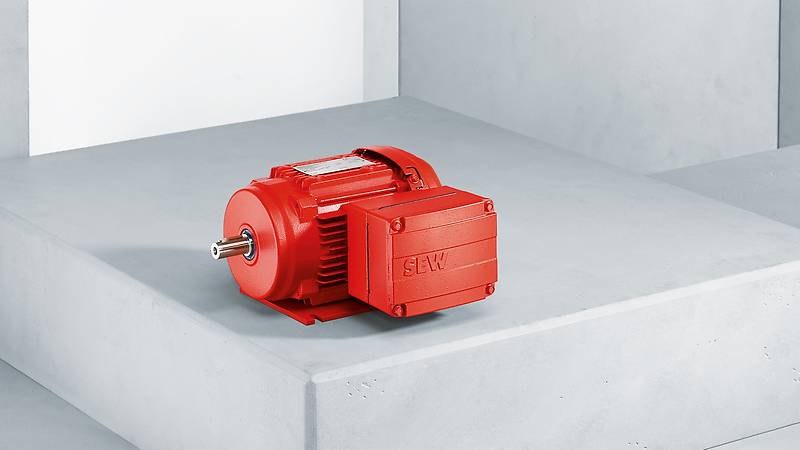 Be it in Europe and the USA or in Brazil: you can operate the DRK.. motors in many power supplies because they are available in 50 Hz or 60 Hz with 220 V or 230 V. In total, there are six sizes available in the power range of 0.18 kW to 1.1 kW.
If you do not require a high starting torque in your applications, e.g. for fans, pumps or compactors, we recommend the DRK.. with integrated running capacitor. The motor becomes more compact as the running capacitor is housed directly in the terminal box. This means that approx. 45% to 50% of the nominal torque is available for start-up.
With an additional start-up capacitor, the motor is suitable for screw conveyors and conveyor belts as well as for agitators and dosers. You can expect a torque of approx. 100% to 150% of the nominal torque.
It goes without saying that everything fits together for single-phase motors and you can use many additional features of the DR.. modular motor system.
Features
Design with integrated and robust film capacitor as a running capacitor

Installed in the terminal box

No restriction due to thermal load

Protected against mechanical influences

For use in buildings and outside, degree of protection IP65, optional surface protection OS2

Starting behavior: ~ MA 45% to 50% MN

Design with start-up capacitor provided by the customer

Starting behavior: ~ MA 100% to 150% MN

1x 230 V or 1x 220 V line operation, 50 Hz or 60 Hz frequency

Meet the requirements for efficiency class IE1 at 1x 230V / 50 Hz as per IEC 60034-30-1

Available gearmotors with motors of the DRK.. series

Helical gearmotors R07DRK.. to R97DRK..

Parallel-shaft gearmotors F27DRK.. to F97DRK..

Helical-bevel gearmotors K19/K29/K39DRK.. to K97DRK..

Helical-worm gearmotors S37DRK.. to S87DRK..

Right-angle gearmotors W10DRK.. to W47DRK..
Technical Data
DRK.. motor /single-phase motor
Type
Power
kW
Line voltage
V
Frequency
Hz
DRK71S4
0.18
1x 230 or 1x 220
50 or 60
DRK71M4
0.25
1x 230 or 1x 220
50 or 60
DRK80S4
0.37
1x 230 or 1x 220
50 or 60
DRK80M4
0.55
1x 230 or 1x 220
50 or 60
DRK90M4
0.75
1x 230 or 1x 220
50 or 60
DRK90L4
1.1
1x 230 or 1x 220
50 or 60
Areas of Application
With integrated running capacitor in

With start-up capacitor in

Screw conveyors

Conveyor belts

Agitators

Dosers