CMP.. Series Synchronous Servomotors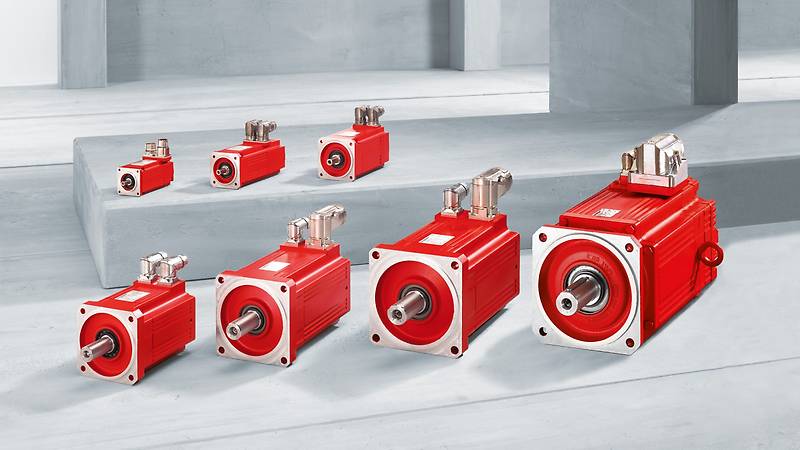 The length-optimised CMP.. servomotors offer precision, high dynamic characteristics and power in a particularly compact design. 7 high-performance sizes cover peak torques up to 320 Nm and can be used in the tightest of spaces.
The CMP.. series of synchronous servomotors can adapt to high loads or to the highest dynamic requirements. Whether in the food and beverage industry or the construction, automotive or wood industries: these synchronous servomotors can be used anywhere to achieve fast cycle times or to move the heaviest loads easily and precisely. Thanks to their optimised length, you can use theCMP.. motors even in the tightest spaces.
The highly dynamic CMP.. servomotors round out the range of servomotors: they offer standstill torques of 0.5 Nm to 95 Nm with 7 motor sizes and a total of 31 motor grades. State-of-the-art winding and magnet technology make the servomotors extremely low in inertia, even though they are optimised for performance. The result is a motor system with the highest possible dynamic characteristics.
Features
Highest dynamic characteristics throughout the entire CMP.. range thanks to the low-inertia rotor design and high overload capacity of the motors

Performance-optimised and extremely compact design thanks to the latest winding and magnet technology

Standstill torques from 0.5 Nm to 95 Nm

Optional CMPZ.. motor variant with increased rotor inertia for all applications with high load moments of inertia

High quality of concentric running characteristics

Direct mounting of the motor on a gear unit from our modular gear unit system
Energy Efficiency
The synchronous servomotors are up to 30% more efficient than classical asynchronous motors. The permanent magnet means that no resistance losses occur in the rotor. No fan friction is created either because the synchronous motor is not ventilated.
Functional Safety
The synchronous servomotors can be equipped with the safety-rated BY brake and/or with a safety-rated encoder. This is indicated on the nameplate.
Technical Data
CMP.. series / sizes 40 / 50 / 63 / 71 / 80 / 100 / 112
Type
Rated speed
rpm
M0 Nm
MpK Nm
Jmot kgcm²
CMP
CMPZ
CMP40S
3000 / 4500 / 6000
0.5
1.9
0.10
–
CMP40M
3000 / 4500 / 6000
0.8
3.8
0.15
–
CMP50S
3000 / 4500 / 6000
1.3
5.2
0.42
–
CMP50M
3000 / 4500 / 6000
2.4
10.3
0.67
–
CMP50L
3000 / 4500 / 6000
3.3
15.4
0.92
–
CMP63S
3000 / 4500 / 6000
2.9
11.1
1.15
–
CMP63M
3000 / 4500 / 6000
5.3
21.4
1.92
–
CMP63L
3000 / 4500 / 6000
7.1
30.4
2.69
–
CMP71S / CMPZ71S
2000 / 3000 / 4500 / 6000
6.4
19.2
3.1
9.32
CMP71M / CMPZ71M
2000 / 3000 / 4500 / 6000
9.4
30.8
4.1
10.37
CMP71L / CMPZ71L
2000 / 3000 / 4500 / 6000
13.1
46.9
6.1
12.47
CMP80S / CMPZ80S
2000 / 3000 / 4500 / 6000
13.4
42.1
8.8
27.18
CMP80M / CMPZ80M
2000 / 3000 / 4500 / 6000
18.7
62.6
11.9
30.3
CMP80L / CMPZ80L
2000 / 3000 / 4500 / 6000
27.5
107
18.1
36.51
CMP100S / CMPZ100S
2000 / 3000 / 4500
25.5
68.3
19.59
79.76
CMP100M / CMPZ100M
2000 / 3000 / 4500
31
108
26.49
86.66
CMP100L / CMPZ100L
2000 / 3000 / 4500
47
178.8
40.24
100.41
CMP112S
2000 / 3000 / 4500
30
88
74
–
CMP112M
2000 / 3000 / 4500
45
136
103
–
CMP112L
2000 / 3000 / 4500
69
225
163
–
CMP112H
2000 / 3000 / 4500
83
270
193
–
CMP112E
2000 / 3000 / 4500
95
320
222
–
Areas of Application
Food industry

Beverage industry

Construction industry

Automotive industry

Timber industry